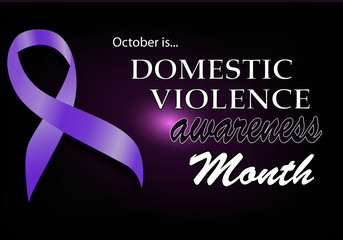 October is National Domestic Violence Awareness Month. So, lets talk about some things that every one should know about it:  What it is? How common is it ?  How to spot it. What to do about it.  How to prevent it.
WHAT IS DOMESTIC VIOLENCE?
Domestic violence is the willful intimidation, physical assault, battery, sexual assault, and/or other abusive

behavior as part of a systematic pattern of power and control perpetrated by one intimate partner against another.

It includes physical violence, sexual violence, threats, and emotional abuse. The frequency and severity of

domestic violence can vary dramatically*
Some Statistics from New  York State:
1 in 3 women and 1 in 4 men in the United States have experienced some form of physical violence by an

intimate partner.




• On a typical day, local domestic violence hotlines receive approximately 19,159 calls, approximately 13 calls

every minute.



• In 2018, domestic violence accounted for 20% of all violent crime.
You get the picture. Domestic violence is a serious problem that threatens people, no matter what their  social , ethnic or economic status.  Because domestic violence is often denied and hidden by both the abuser and the abused, it is important for partners , friends and families to be aware of the warning signs that could indicate that abuse is occurring. Likewise it is important to be familiar with community resources if abuse is suspected or present. 
Common Traits and Warning Signs of Abusers
— They DENY AND MINIMIZE the reality and seriousness of their abuse.
— They FALSELY BLAME and ACCUSE their victims of infidelity and   for  them to be abusive.

— They DEMAN AND DEGRADE their partners.
— They RESTICT ,CONTROL , and ISOLATE their partners.  
— They ATTACK and HUMILIATE their partners in public. 
— They have LOW SELF-ESTEEM.  
—  They have POOR ANGER/IMPULSE CONTROL.
— Are EXTETREMELY JEALOUS AND POSSESIVE.
— ARE CRUEL TO ANIMALS.
WHAT YOU CAN DO IF YOU SUSPECT DOMESTIC ABUSE
— DON'T IGNORE IT BUT DON'T OVER-REACT OR TRY TO CONTROL  Calling police should only be done if you actually witness a physical assault. 
— ASK IF THE PERSON FEELS SAFE AND THEN, LISTEN. 
— EXPRESS YOUR CONCERNS AND EXPLAIN WHY YOU'RE CONERNED.
— EMPATIHIZE AND OFFER EMOTINAL SUPPORT emphasizing his/her innocence and                    PRACTICAL SUPPORT like giving a ride.
–– ASK ABOUT HIS/HER SUPPORTIVE RESOURCES  like family and friends. 
— EDUCATE ABOUT COMMUNITY RESCORCES such hotlines, shelters and therapists. 
HOW TO PREVNT DOMESTIC VIOLENCE
Relationships and especially marriages are challenging and filled with conflicts and disagreements. Domestic violence often grows where one or both partners are immature or when both are not seen as equals nor are they treated with respect.  Growing beyond individual selfishness to a genuine couple's consciousness of personal identity is difficult but a necessary part of stable relationships.  In a word, maturity is THE crucial step which not only ensures marital happiness but also can prevent and protect the marriage from abusive behavior. Here are three important elements of relational maturity which each partner must acknowledge the importance of and learn:
1. CONSTRUCTIVE COMMUNICATION AND CONFLICT-                      RESOLUTIONS SKILLS.
2. THE WARNING SIGNS OF ABUSIVE BEHAVIOR.
3. PROFESSIONAL COUNSELING: Both individual and relational.
The Rev. Michael Heath, LMHC, Fellow AAPC                  10 16  2021
Understanding and Coping with "Controlling" People. | Pastoral Counseling Syracuse NY (revmichaelheath.com)
*   Definition taken from    The Nation's Leading Grassroots Voice on Domestic Violence (ncadv.org)