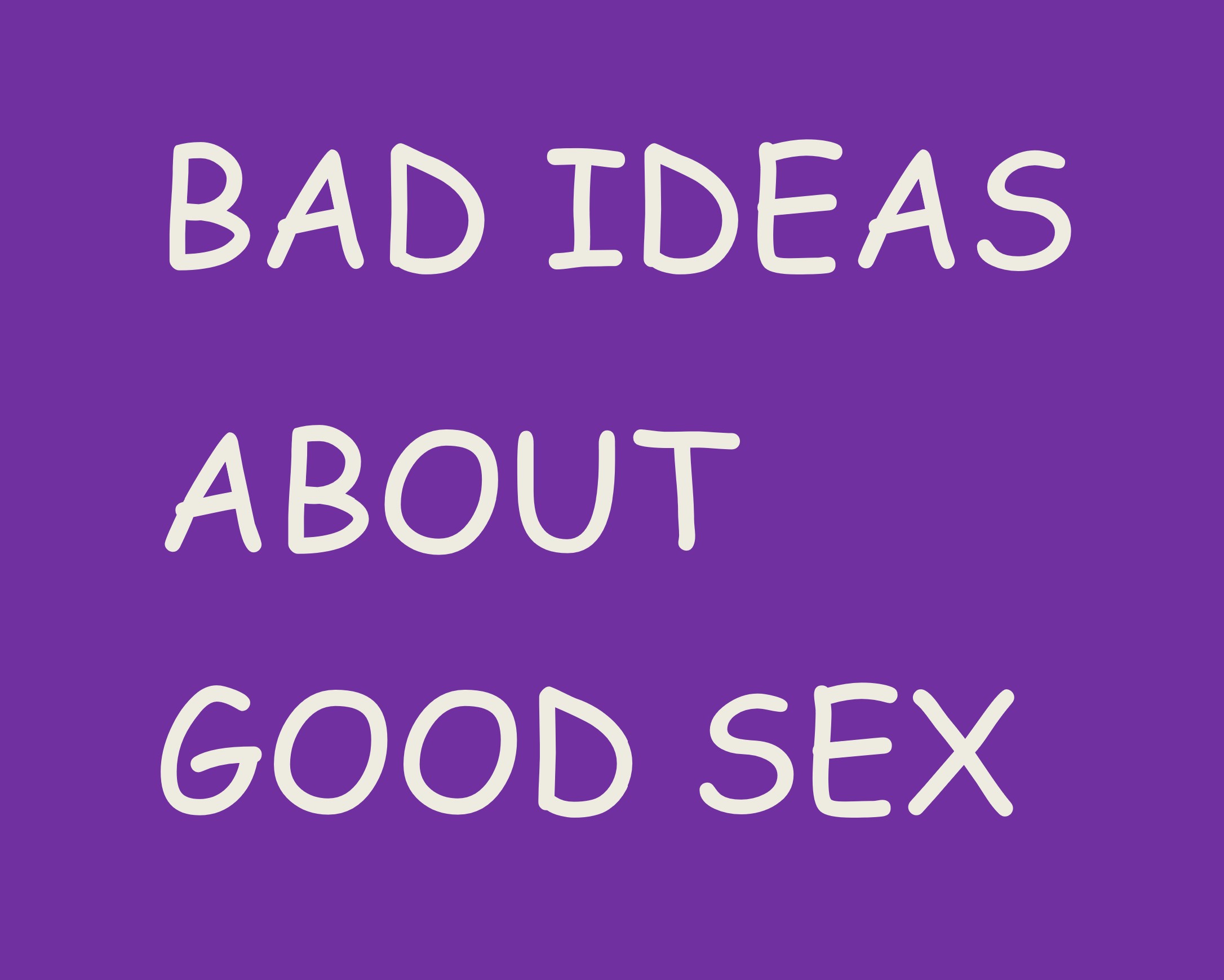 It's no surprise that most people want to have "good sex".  Unfortunately, many people report that they are not having it. 
Over the years, I have found that, even among highly educated folks, much is lacking with respect to their understanding of sex and intimacy. 10 Myths About Sex That Many Adults Still Believe | HuffPost Life
Indeed, our culture is saturated with misinformation and myths which have created unrealistic notions and expectations of what good sex is or what is needed to have it. Intimate Communication: Tips for Talking to your Partner about Sex | Pastoral Counseling Syracuse NY (revmichaelheath.com)  Indeed, unrealistic expectations about sex are the biggest obstacle to erotic bliss.
Therefore, let's look at some of the bad ideas about good sex and debunk them with facts and accurate information:  
— THE NUMBER OF TIMES YOU HAVE SEX A WEEK IS IMPORTANT
Many people erroneously believe that to have good sex, you should be doing it a lot.  And, if you aren't, then there must be something wrong with the relationship.  In fact, given the reality of our complicated lives, it is not surprising that the national average for couples having sex is about once per week. Kids, jobs, not to mention other things like fatigue, stress and relational conflicts can prevent couples who sex more often from having it.  The truth is, frequency is not a reliable indicator of the quality of one's sexual relationship.    
— ORGASMS ARE NECESSARY … ESPECIALLY FOR HER
It is important to understand that men and women are different when it comes to orgasms. Most men take having an orgasm for granted.  It is a differ story for women.  Depending on a number of factors, a women may orgasm once, many times or not at all. It needs to be understood that the lack of an orgasm is not a reliable indicator of a sexual problem.  Infact most women (including those who regularly enjoy good sex) don't climax every time.  Don't let worry over orgasms interfere with your sexual enjoyment.  Point to remember: Having good sex does not depend on having an orgasm.
— FOREPLAY IS JUST TOUCHING "OTHER" PLACES
Most men know that women enjoy foreplay to get into the "mood" but many men don't realize that foreplay is not just about touching.  After all, the goal of foreplay is to induce a relaxed and loving feeling of connection with our partner. While gentle and affectionate caressing is part of foreplay, don't over look some other things. Things like house work and other things that make life easier for one's mate which do not occur immediately before love making, starts a flicker which can become a passionate flame later on.      
— USING A VIBRATOR MEANS THERE IS A PROBLEM 
One of the poorest kept secrets about sex is the popularity of sex toys in the bedroom. And yet, some men worry that if their partner enjoys using a vibrator, it means that "they aren't good enough" to satisfy them. Nonsense !  If you love your partner, wouldn't you want them to experience the greatest pleasure ?  What difference does the source of the stimulation make?  A person may enjoy a nice steak but also want dessert .  If you are a guy who feels threatened by a "rabbit" or any other sex gizmo, I suggest that you stop worrying and start enjoying how much pleasure your partner is feeling. Toys are fine. You may even want to try one yourself.    
— PLANNING TO HAVE SEX RUINS IT  
Certainly, it's true that popular Netflix series often portray couples impulsively hooking up in elevators or on office desk tops but reality isn't like that.  While many fantasize about having wild and spontaneous sex, real life is simply too booked-up to allow for it.   Thus, if you are holding out for a purely spur-of-the-moment encounter, you may have a long wait.  Instead, most busy couples understand that if they want to have good sex, that they will have to plan ahead and structure it into to their schedules.  Setting up date nights in advance are a good way to ensure having that romance and good sex is not neglected.  Besides, anticipating can be exciting.       
— THERE IS ONLY ONE WAY TO HAVE GOOD SEX
It's true that we don't understand everything about sex.  But we do know that there is no single definition of what good sex is. Thus, it is up to each couple to explore and discover what good sex is for them.  Ultimately, they key to having good sex is honest communication about and acceptance of what each partner enjoys.     
Good sex is like a river that flows between two people who love each other.  If something is blocking the flow  or if you if you would like to learn how to make it better, please let me know. I can help.   
Rev. Michael Heath, LMHC, Fellow AAPC                      4  27 2022
www.revmichaelheath.com/