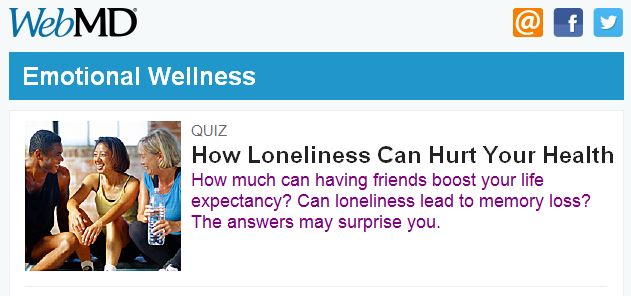 When it comes to mental and physical health, science is learning more and more about both the benefits of friendship and the increased risks of social isolation.  The short quiz given in the link provided below offers a good summary of the benefits. For example:
1. Having good friends can boost your life expectancy more than 20%.
2. Loneliness is as harmful to your health as alcoholism, smoking or obesity.
3. Specifically, friendship:
— Eases stress
— Boosts you immune system and
—  Protects your heart.
4. On the other side, social isolation can lead to:
— Depression  — Memory loss an
— Memory loss an
— A weakened immune system.
5. Also, keeping in touch with friends who have moved and now live far away provide the same benefits as those friends who live close by.
The take aways from these findinga are important.If your are without friends, don't dispair.  Social media provides an excellent way to break the ice and find folks you have things in common with.  Friendship can spring from meeting someone withwhom you have common interests.If you have been neglecting your friends, don't ignore this change because it could be a sign of depression.
Finally, it is important to appreciate how important your friends are.   If things have become distant, do something about it and reconnect.   You'll be glad that you did !